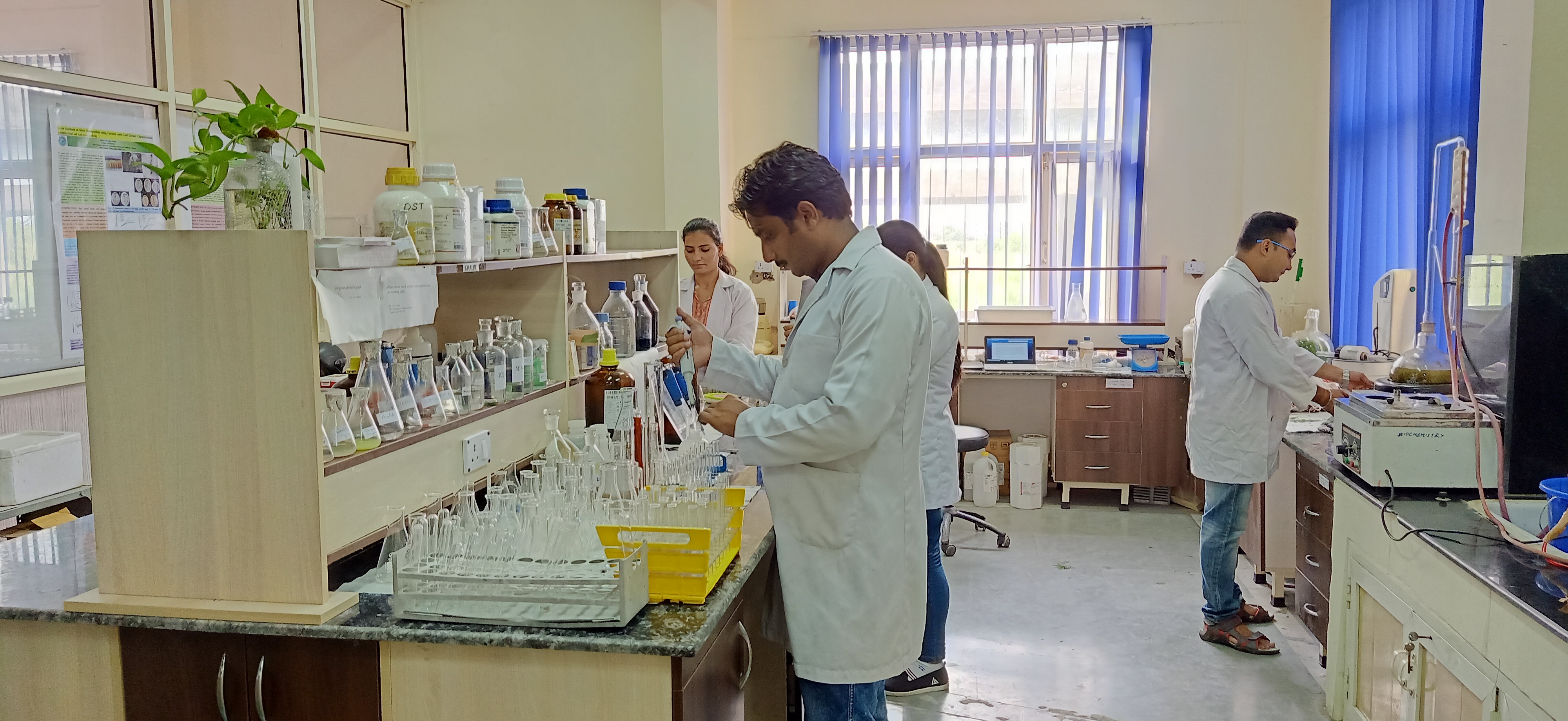 Latest News:
Teaching :
To impart teaching in Biochemistry in UG/PG programme of the University.
---
Research :
To conduct basic and strategic research for the growth of agriculture and allied fields.
---
Extension :
Transfer of innovative technologies to the farmers through KVKs
---
The flagship areas of the Division of BIOCHEMISTRY are as under:-
Carry out basic and strategic research in the frontier areas of Biochemistry for the development of novel plant types with improved productivity, nutrition and enhanced resistance towards biotic and abiotic stresses
Biochemical prospecting of medicinal and aromatic plants for bioactive natural products having antioxidant, antifungal and anticancer activities.
| | | | | |
| --- | --- | --- | --- | --- |
| Name of Project | Principal. Investigator | Agency | Duration | Document |
| Free radical scavenger and antioxidant activities of selected north-western Himalayan medicinal plants | Dr. Sanjay Guleria | DST, GoI, New Delhi | Three Years | - |
| Factors affecting the olive oil quality and characterization of olive oil using standard protocols for technology transfer for effective marketing of the oil | Dr. A.K. Tiku / Dr. Sanjay Guleria | ICAR, New Delhi | Three Years | - |
| Biochemical prospecting of some traditionally used north western Himalayan medicinal plant for antifungal metabolites | Dr. Sanjay Guleria | DBT, GoI, New Delhi | Three Years | - |
| Expression profiling of dof genes for accumulation of seed storage proteins and nitrogen metabolism in common beans (Rajmash) | Dr. Moni Gupta | DBT, GoI, New Delhi | Three Years | - |
Name :
Dr. Sanjay Guleria
Designation :
Professor & Head
Area of Specialization :
Biochemistry of induced resistance in plants, Isolation and characterization of bioactive molecules from medicinal plants
E mail :
guleria71@gmail.com
Contact No :
+91-9469211245
Profile :
View Profile
Name :
Dr. Moni Gupta
Designation :
Professor
Area of Specialization :
Biochemistry and Molecular Biology
E mail :
moniguptaskuast@gmail .com
Contact No :
+91-9469160994
Profile :
View Profile
Name :
Dr. Vikas Sharma
Designation :
Associate Professor
Area of Specialization :
Natural Products
E mail :
vikas.skuast@gmail.com
Contact No :
+91-9419634588, 9469752697
Profile :
View Profile
Faculty Of Basic Sciences