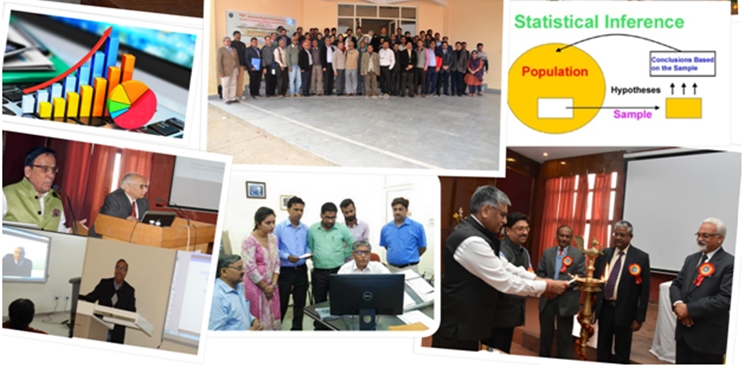 Latest News:
Teaching :
To impart quality education across the faculties in undergraduate and postgraduate programmes.
---
Research :
To carry out basic and strategic research with focus in the areas of Design of Experiments, Sample Surveys, Statistical Inference and Statistical Modeling.
---
Extension :
To conduct trainings & to provide technical support for faculties and field functionaries.
---
The flagship areas of the Division of STATISTICS and COMPUTER SCIENCE are as under:-
SAMPLING THEORY: In statistics, quality assurance, and survey methodology, sampling is the selection of a subset of individuals from within a statistical population to estimate characteristics of the whole population. Statisticians attempt to collect samples that are representative of the population in question.
STATISTICAL MODELLING: A statistical model is a mathematical representation (or mathematical model) of observed data whereas a statistical modelling is the process of applying statistical analysis to a dataset.
| | | | | |
| --- | --- | --- | --- | --- |
| Name of Project | Principal. Investigator | Agency | Duration | Document |
| National e-Governance Plan- Agriculture | Dr. Manish Kumar Sharma | Ministry of Agriculture, New Delhi | Three years | - |
| National Knowledge Network (NKN) | Dr. Manish Kr. Sharma | MOCIT & NIC, J&K | 10 years | - |
Name :
Dr. Manish Kumar Sharma
Designation :
Professor & Head
Area of Specialization :
Sampling Theory, Statistical Modelling and Statistical softwares
E mail :
manshstat@gmail.com
Contact No :
94191-98062
Profile :
View Profile
Name :
Dr. S.E.H. Rizvi
Designation :
Professor
Area of Specialization :
Sampling Theory ( Optimum Stratification), Applied Statistics, Statistical Modelling
E mail :
sehrizvi_stats@yahoo.co.in
Contact No :
094191-38953
Profile :
View Profile
Name :
Dr. Sunali Mahajan
Designation :
Assistant Professor Contractual (FoA)
Area of Specialization :
Statistical Modelling, Applied Statistics
E mail :
sunali12mahajan@gmail.com
Contact No :
9796827726
Profile :
-
Name :
Dr. Akshita Sharma
Designation :
Assistant Professor Contractual (SBT)
Area of Specialization :
Reliability Theory
E mail :
akshita.sharma93@gmail.com
Contact No :
9906032376/ 6005051901
Profile :
-
Faculty Of Basic Sciences